TYR The Young Reporter Magazine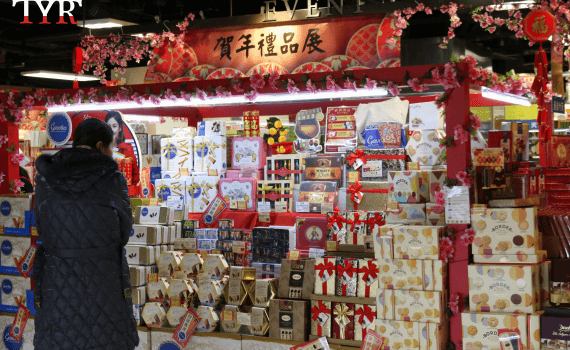 Beware of sugar-coated Lunar New Year food health snare
Can government do more to ease unhealthy consumption of Chinese New Year food? Eat one Lunar New Year rice cake and you've almost hit your daily sugar limit. With 21 grams of sugar, a rice cake comes close to the World Health Organisation's recommended 25 grams a day. "Sugar is just as addictive as cocaine with similar effects on our brain, making it extremely irresistible," Denise Tam, a Holistic Nutritionist at the brand Food for Life, said. "That is why once we start, it's hard to stop." According to SingHealth, a healthcare institution based in Singapore, Chinese New Year delicacies contain excessive carbohydrates and sugar, which can cause weight gain in the short-term and much more serious long-term problems. Sugar plays a major role in the development of diabetes and heart disease, the institution warns. Both diseases are among Hong Kong's top causes of mortality. Diabetes even enters the top ten and heart-related diseases account for 13.2% of all deaths in the city, according to government statistics. Eurasian CrossFit coach Anthony Haynes, 29, said he never eats traditional New Year's treats, even during obligatory visits to his Chinese relatives' homes. Instead, he consumes lean meats, steering clear of anything with excess MSG, salt or sugar. "I try to avoid them like a plague as much as I can, even for (the) festive season," he said. "It's a bit sad, but I'm quite extreme." With a plethora of annual treats - such as deep-fried niangao (rice cake), peanut snacks and candied fruit - it is not easy to abstain while socialising.   Holly Liu Hoi-ning, 19, said she knows they are unhealthy but eats them anyway. "We only eat (Chinese New Year) food once a year, why not be carefree and eat all we want? If people calculate how much calories …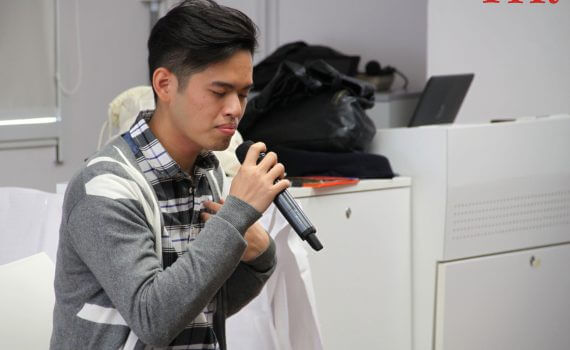 Getting rid of insomnia with an app?
Jola Mok tosses and turns in her bed for hours every night. The death of a close relative when Ms. Mok was 19 has taken its toll on her mental health. "I am afraid of going to bed," Ms. Mok said. Every evening, she feels anxious to face another long night. Some 40% of people in Hong Kong suffer from insomnia , according to a survey conducted by the Surveillance and Epidemiology Branch of the Centre for Health Protection in 2015. Nearly half of the respondents said they had sleep disturbances, including difficulty in falling asleep, intermittent awakenings or difficulty in maintaining sleep during the night" and waking up early and unable to sleep again. "Stress is usually the main cause of insomnia. If people cannot handle stress well, insomnia may be one of the consequences," said Dr. Dennis Cheung Ching-ping, a specialist in psychiatry. Ms. Mok is among them. She was diagnosed with post-traumatic stress disorder, and that led to insomnia. People who suffer from sleeping problems sometimes seek help from doctors or psychologists. Recently, patients with insomnia look for alternatives, for example, applications on their phones that might relieve  insomnia. Might these apps be a handy way to alleviate sleep disturbances? "Sleep Better with Runtastic", "Void" and "SleepTown" are some mobile apps that help people arrange a well-organised sleep schedule. Some track users' sleep cycle, help them relax and provide motivation to eliminate the habit of using mobile phones before sleep. "Sleep Better with Runtastic"  was by Runtastic, an Austrian mobile fitness company. The app focuses on tracking users' diet and exercise habits and links them with sleep quality. After users enter their stress level, caffeine consumption and dreams in the app, it then analyses the data. Users can then understand the fundamental causes of their sleep disorders …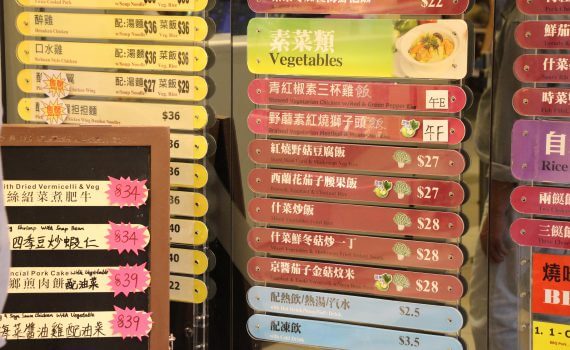 Flexitarian: an easy way to go green
To become a flexible vegetarian in Hong Kong "I'd like to have the Pesto Chicken Salad, but please take away the chicken," said Ms. Chan at a bakery cafe. Her friend surprisingly asked her, "What? You're taking away the best part of the dish!" This is a situation often encountered by Chan Wun, but her diet habit is different from that of traditional "vegetarians". She is a member of a rising group, "flexitarians", a combination of "flexible" and "vegetarians". The number of flexitarians rose from 5% in 2008 to 22% in 2016, while vegetarians only account for 3% of Hong Kong's population. Up till 2017, over 1,000 restaurants in Hong Kong have joined an initiative programme to offer vegetarian-friendly menus, according to a social startup, Green Monday. "In order to lose weight, I had become a vegetarian for around two months during high school," said Ms. Chan, an 18-year-old university student. She had no choice but to constantly ordered Indian curry since it was the only vegetarian choice at school. Things become more difficult during family gatherings. When Ms. Chan's mother cooks vegetarian meals for her non-vegetarian father and brother often complain that the meals lacked protein. "It is difficult to avoid eating meat especially when we are living in Chinese culture where specific cuisines and dishes will be offered during celebratory events and festivals," said Ms. Chan. "Then I decided to quit because of inconvenience, time cost and expense." Instead of being a strict vegetarian, she opted for a flexitarian-style diet. In fact, the problem was not faced just by Ms. Chan when she was a vegetarian. To Hiu-yan, 20, a university student who has been a vegetarian for two years, said that the once-athlete started this eating habit to keep fit.   Ms. To said she faced limited …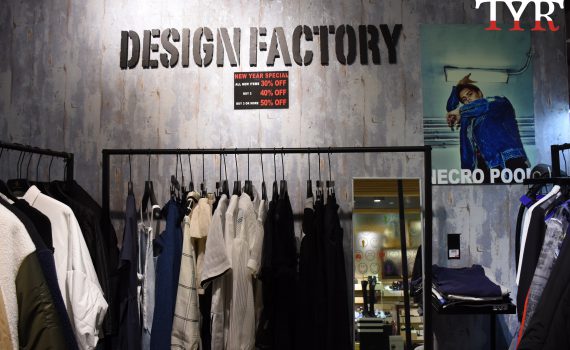 Government launches project in Sham Shui Po in support of new fashion design businesses
The textile market in the district of Sham Shui Po has a long history of being a garment and clothing outlet. It used to house many factories and now has a full spectrum of products ranging from fabric, clothing, semi-precious stones, to accessories. While the market is idiosyncratic to local fashion, the government has announced its plans for a new fashion design project to be launched in Sham Shui Po, next to the fabric and textile market. The Commerce and Development Bureau said the project will help nurture a younger generation of local designers, as well as enrich the traditional fabric and retail business with new elements. Based on a report by the Hong Kong Census and Statistics Department, the latest figures show that Cultural and Creative Industries have shown at an average of 7.6% a year, faster than the average annual growth rate of the nominal GDP of Hong Kong. The report also shows that in between 2005 to 2018, the growth seen in local design industries has more than quadrupled, from $1 billion to 4,15 billion. "The uniqueness of having this project in Sham Shui Po carries two meanings," said Edward Yau Tang-wah, the Secretary for Commerce and Economic Development. "First of all, we want to support young fashion designers. On the other hand, finding a home in Sham Shui Po is a recognition of the synergy and the very special ecology that Sham Shui Po has, (it) is itself a big icon." Mr. Yau believed that this project is giving the new creators in the fashion industry an old home. Mr. Yau emphasised that the goal can be summed up in three words: synergy, space, and support. "Synergy is between new designers and the local ecology," he said. "Space does not only refer to space for incubation, …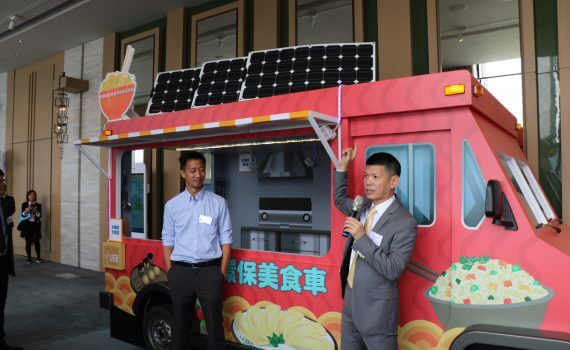 Hong Kong's first solar-powered food truck wins catering award
Hong Kong's first green food truck won the Gold Prize of Catering in Traditional Cuisine of CLP's Greenplus Award Programme. The solar-power panels, which cost over $20,000, are installed on the vehicle's roof to supply electricity for fans and for customers to charge their electronic devices. "The eye-catching panels also demonstrates the eco-friendliness of the vehicle whereas other energy-saving measures are usually not obvious," said Trevor Ng, Managing Director of Pat Chun, who has been operating the $800,000 truck since March this year. The company also adopts an energy management system which can be operated with a smartphone to improve energy efficiency. "With the system, we can collect real-time energy consumption data and adjust the use of electricity," said Ng. For example, they can use the remaining heat generated by the automatic rice-fryer to cook their stewed beef brisket. To reduce interior temperature, they opted for a heat-resistant automatic rice-fryer. The solar panels on the roof also serve as a heat barrier during hotter days. A centrifugal range hood and a grease trap are also installed to collect used cooking oil that will be converted to biodiesel for the car. Ng said they save about 25% on their electricity bill after implementing these measures. Such environmental protection measures "mitigate climate change, lower business cost and create new business opportunities," said Philip Yung Wai-hung, Permanent Secretary for Commerce and Economic Development (Commerce, Industry and Tourism).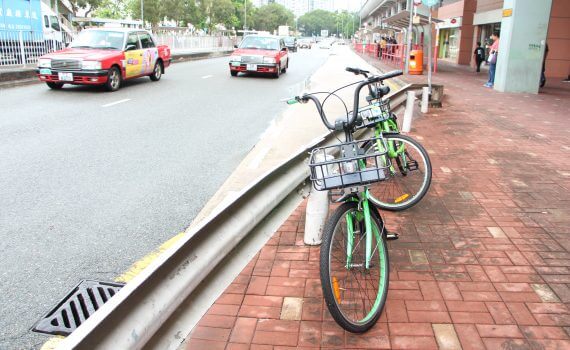 Hong Kong bike-sharing initiatives' secretive rise
The Lands Department confiscated around 30 bikes in Tin Shui Wai and Yuen Long, most of which are from GoBee, the first bike-sharing service in Hong Kong. Unlike existing bike-rentals, bike-sharing services allows users to rent green bikes by scanning QR codes with their mobile phones, posing no restrictions on where to pick-up or drop off the bicycles. Sha Tin District Councillor Sunny Chiu Chu-bong finds the bike-sharing service is a good concept and can be very convenient, though problems have arisen since before its implementation. However Chiu said there are no regulations towards these services, but taxpayers are paying for these bikes. "They are using government land to make profit, without approval from the public." The district councillors were not informed of the bike-sharing service until they started receiving complaints; Some complained of alarms going off and are unable to be turn them off; Bikes were inappropriately parked, blocking the road. These are only some of the common problems found since the launch of the service. "Hong Kong is not ready for bike-sharing services," he added. " The city lacks government regulation and infrastructure. More similar companies are going to surface and that will worsen illegal parking." Sha Tin resident Chan said this service is quite convenient, but it's not very well-known and the payment method is quite complicated. Though she is concerned of the parking problem, she would choose to pick up these green bikes for a free 30-minute session. Another resident Michelle Cheung feels uneasy about the registration and payment method of the services. She fears about privacy problems which could hinder with the usage of the service. "The government should make them register and plan out the areas for them to park the bikes." She answered when asked about possible government action, regarding the disruption caused …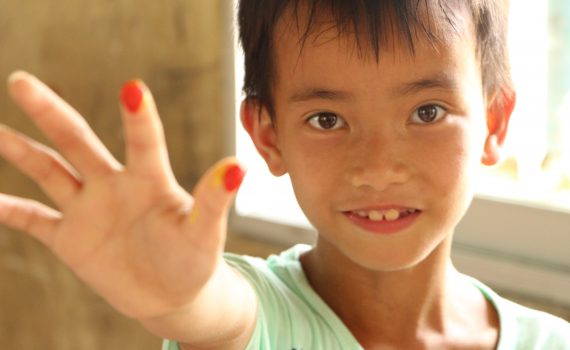 Somewhere over the rainbow - How an 8-year-old boy experience China's education gulf
Every morning at 8:30, the muddy ocher-coloured cottage is blasted with young voices reading aloud textbook passages, so loud that it can be heard across the cement-levelled playground far from the school gate. There are three classrooms in the cottage with no lights but a rickety ceiling fan each. Drawings are repeatedly glued on and ripped off a section of the wall framed with red rice paper. On top, it wrote sloppily "In Celebration of the June First International Children's Day". This is where the eight-year-old Huang Wei-biao goes to school every day with his 22 young schoolmates, a village in the rural area of the East Guangxi province. The nearest town is 45 minutes of serpentine car ride away. One can tell Huang is a diligent student as he reads his textbook with his finger precisely pointing at each word when he pronounces it. One can tell Huang is an assiduous child as the veins of his neck appear every time he utters a word. One can tell Huang is an eager learner as each page of his textbook is torn and curled at the corners. Yet no matter how earnest or smart a student Huang is, he is just one the 13.8 million village primary students in China who are probably receiving education of lower quality than students who study in the urban parts of China. Village schools lack facilities and professionally trained teachers. Pupils do not have classes in other areas such as arts and physical education, let alone school outings. In comparison, the XinXing primary school in the same prefectural city has a multi-story building with a sports ground. There are more than 40 teachers and most of them have received tertiary education. Children's' parents can also find better working opportunities close by and not have …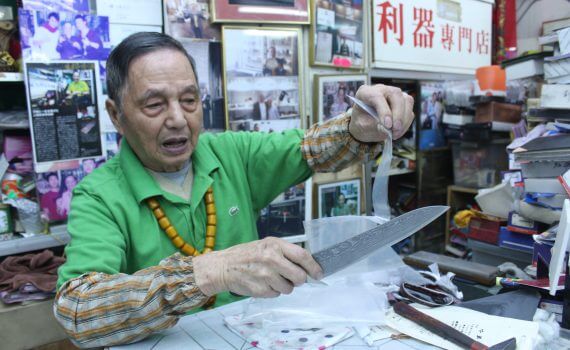 Master of Knives
A full steel armour stands in the show window of Chan Wah Kee, a cutlery shop on Temple Street in Mong Kok.Chan Dong-wah, 85, is one of the few remaining knife sharpeners inHong Kong. He has been whetting blades for more than 70 years.Chan first learnt the art of knife sharpening in Guangzhou when he was 11 years old. Four years later, he came to Hong Kong and set up his stall on Temple Street, sharpening tailor's scissors. After 20 years of hard work, he finally owned his cutlery store."The key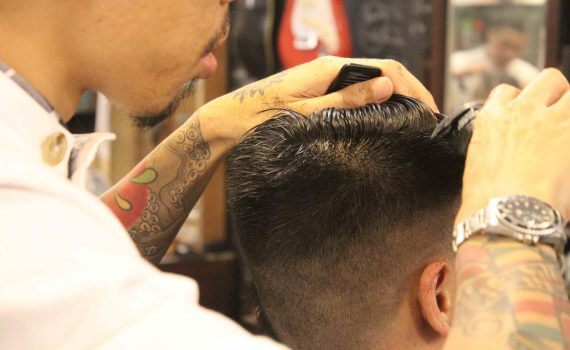 "The Egg Tart: Evolution of a Classic Hairstyle
TYR's Kenji Chan walks us around a historical barber shop and a celebrity-serving modern salon which offers the same time-honoured hairstyle "Eat Tart", which crazed the city in the 1950s."The pompadour haircut has al-ways been a classical and good men 's haircut," said Adam Chan Moon-tong, a young yet experienced hairstylist.Style such as comparing the look with vintage stone washed jeans and Wonton noodles, Chan said thatHong Kong people had forgotten the grooming culture Shanghai barbers brou