The Young Reporter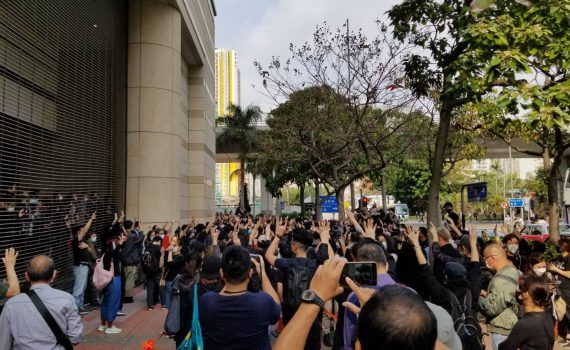 Court charges 47 pro-democracy figures with "conspiracy to commit subversion" under national security law
47 people from the pro-democracy camp attended a hearing at West Kowloon Magistrates Court today in connection with their participation in holding primary polls ahead of the planned Legislative Council election last year. They face charges of "conspiracy to commit subversion" under the National Security Law. Former lawmaker Claudia Mo Man-ching, convener of Civil Human Rights Front Jimmy Sham Tsz-kit and others sitting on the bench waved at those in the dock, including Gwyneth Ho Kwai-lam and Lam Cheuk Ting. Before the hearing began, one of the accused, Ms Ho stood up and shouted that she had not met her lawyer. The first defendant, former legal academic, Benny Tai, 56, was accused of promoting "an agenda to obtain a controlling majority" in the Legislative Council. The prosecution argued that Tai's '35+' campaign aimed to paralyse the government by getting Legco to indiscriminately refuse to pass the budget and ultimately to cause the dissolution of the Council and the resignation of the Chief Executive. Tai's "mutual destruction" agenda, the prosecution said, was a conspiracy to "seriously interfere in, disrupt or undermine the performance of duties and functions of the government". Mr Tai, along with ex-lawmaker Au Nok-hin and members of the now-disbanded group, People for Democracy including Chiu Ka-yin Andrew, Chung Kam-lun and Ng Gordon Ching-hang, allegedly conspired with the rest of the defendants who participated in the primaries. More than 600,000 people voted in the primaries held last July, but the Legislative Council election was postponed for a year because of the Covid pandemic. The police also alleged that Gordon Ng, 41, initiated a 'Say No to Primary Dodgers' movement, which directed readers of their articles to vote in favour of their stance in the primaries. The defendants' activities such as crowdfunding, nomination and holding press conferences are cited as …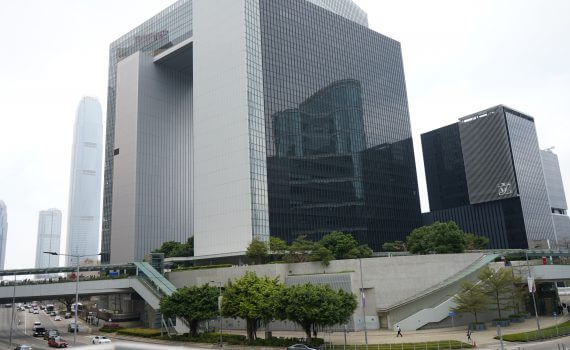 Hong Kong district councillors required to pledge allegiance to government or face a 5-year election ban
Secretary for Constitutional and Mainland Affairs Erick Tsang announced that District Councillors may be required to pledge allegiance to the government, under a proposed amendment to the Public Offices (Candidacy and Taking Up Offices) (Miscellaneous) Ordinance.  Violators will be barred from running for office for five years.  Mr Tsang introduced a list of rules that disallow district councillors from running for office. The behaviours that are not allowed include committing acts which endanger national security such as refusing to recognise China's sovereignty over Hong Kong, involving foreign government interference in the city and advocating for "Hong Kong independence" among others.  "I believe that, if according to the list, the individuals are sincere in upholding the Basic Law and swearing allegiance to the SAR government, they won't have to be worried," Mr Tsang said. Under Article 6 of the national security law, residents "who stand for election or assume public office shall confirm in writing or take an oath to uphold the Basic Law." The ordinance also contains a clause that will remove any councillor who is "declared or decided" to have failed to fulfill the requirements of bearing allegiance to the city.  The first reading of the bill will commence on March 17. The second and third reading will be decided in the second quarter of 2021, according to the  LegCo document.  "If they disqualify a councillor, who came from the election, actually they are not only disqualifying us, but also disqualifying the citizens," said Wong Tin-yan, a district councillor for the Lai King constituency.  The district councillors are also required to sing the national anthem of China as part of the proposed oath-taking requirement. Mr. Tsang said that four incumbent pro-democracy district council members --  Lester Shum, Tiffany Yuen, Tat Cheng and Fergus Leung --  would be expelled from …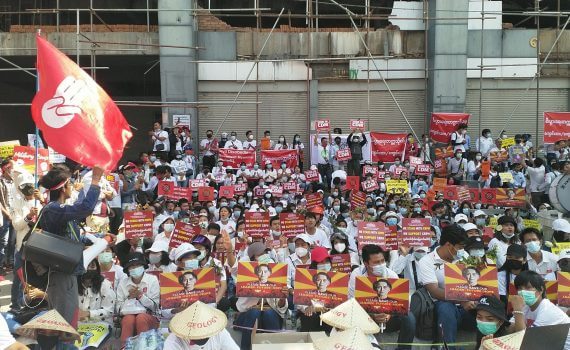 Peaceful protests and strike sweep Myanmar despite deadly police violence
Protesters across Myanmar staged one of its largest anti-coup protests on Monday since the military overthrew democratically-elected Aung San Suu Kyi's government and arrested members of the National League for Democracy three weeks ago.  In Mandalay, the country's second-largest city where two protesters were shot dead on Saturday, hundreds of thousands rallied peacefully, among them medical workers, lawyers, engineers, monks and grocery shop keepers, said Aung San Thein, 22, a Mandalay protester in a phone interview.  Mr Thein went into exile with his family as a child due to political prosecution. He returned home after the National League for Democracy won a landslide victory in the 2015 election.  "We're not taking any violent action," Mr Thein said. Demonstrators gathered in front of the central railroad station, passed boiled eggs and snacks to one another and listened to speeches, he said, adding all the shops he saw were closed. "Protesters at the front shouted: 'What do we want,' and the crowd behind chanted: 'We want democracy," he said. "Everything is in order. There is no chaos in the country that [the military] has to declare a national emergency. The only chaos that we are having right now is because of the military," Mr Thein said. "That's what we want to show."  A one-year state of emergency has been imposed on Feb. 1 after the coup, during which the military chief Min Aung Hlaing will remain in power. The strike defied the junta's warning on Sunday that protesters, who they blamed for "inciting emotional teenagers and youths," could "suffer a loss of life." Three protesters have been killed by live bullets during clashes with police, including a 16-year-old boy and Mya Thwate Thwate Khaing, a 20-year-old who was shot in the head on Feb. 9 in the capital Nay Pyi Taw and …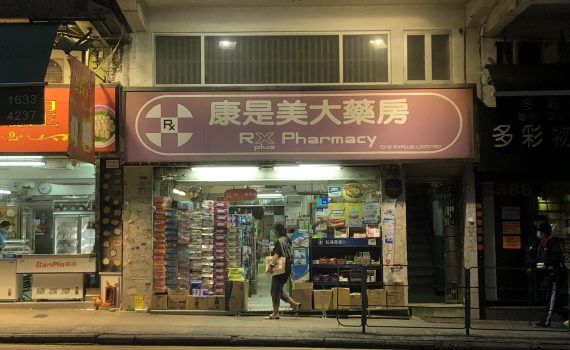 Budget Address 2021: Both private and public healthcare sectors call for more support
Financial Secretary Paul Chan Mo-po announced more funding support for the Hospital Authority in his budget address today, raising dissatisfaction among the private and public healthcare sectors. Mr Chan's policies included providing more than $5 billion to the Hospital Authority to support the anti-pandemic work, increase manpower and services in the public healthcare system, promote the development of Chinese medicine and enhance mental-health services. "Under the current epidemic, the HA will utilise the resources to further enhance public hospitals' capability in managing infectious diseases," HA chairman Henry Fan Hung-ling said at the Legislative Council today. However, government support for the private sector was nonexistent. "The private sector and its doctors are suffering under the pandemic," said Philip Lai, a pharmacy owner in Kowloon City.  The majority of Mr Lai's clients are local residents, and his pharmacy suffered a 30% drop in revenue since the pandemic began last year. "I deal with clients who want better drugs and medicines that are not available in public hospitals," Mr Lai said. "But if the public sector gets more funding, they can offer higher quality medicine. Then why would anyone buy medicine from pharmacies?" Private clinics also suffered a drop in patients due to the pandemic. Tracy Hui, a nurse, said her private clinic had a 40% drop in patients. "I didn't expect the government to support us. But if they could provide any support, it would be best if they could help us in terms of rent," said Ms Hui. The public sector also showed dissatisfaction with this year's budget address. "The policies were not about health, they were about security and IT." said Dr Arisina Ma, president of Hong Kong Public Doctors association.  Dr Ma pointed out that the budget address only covered paint-by-number policies, including increased isolation beds and mental health …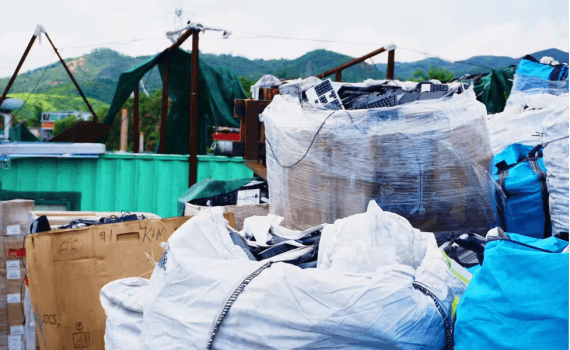 Budget Address 2021: Initiative to achieve carbon neutrality and funding for recycling welcomed by NGO
The Hong Kong government will allocate additional funding for green projects in the new budget proposal announced this morning to help the city meet its carbon neutrality target by 2050.  A billion dollars has been injected into funding more than 80 projects that aim to install small-scale renewable energy systems, like solar panels and solar water heaters at government buildings.  The Recycling Fund will also receive $1 billion for individual local recycling enterprises aimed to enhance and expand their recycling operations in Hong Kong and non-profit-distributing organisations to undertake non-profit making projects.  The city has been widely criticized for its lack of effort in recycling and waste management.  "The fund is very important to help local traditional recycling companies to transform into a more workable and sustainable model," said Lo Kiu-fung, the Project Manager of Designing Hong Kong, a local environmental NGO.  NGOs can also benefit from $150 million, a separate fund set aside so the government can help install energy-saving appliances and conduct energy audits for free.  The scheme is expected to benefit more than a thousand businesses, said Mr Chan. "The application period for recycling funds will be extended to 2027 so as to render continuous support to the trade, particularly the SMEs, in enhancing its operational capabilities and efficiency as well as coping with the latest needs of both the local and non-local markets," said Financial Secretary, Paul Chan Mo-po. Mr. Lo describes the city's waste disposal situation as very urgent. "We are behind a lot of Asian cities, and people are producing more and more waste," he said. Hong Kong's major environmental concern is air pollution and waste management, according to the Environmental Protection Department. The city is facing a landfill shortage.  The total amount of solid waste disposed of in Hong Kong's landfills in 2019 was …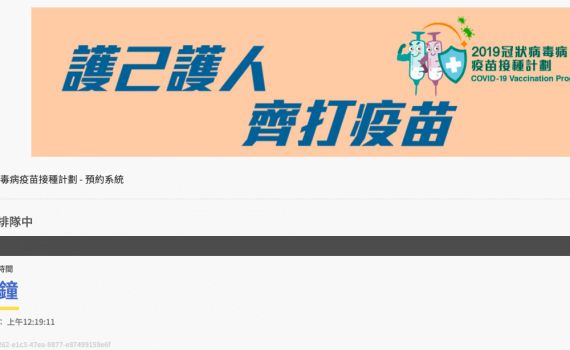 More than 60,000 sign up for Sinovac jabs
Online registration for Hong Kong's first round of Covid vaccination began at midnight last night. But the waiting time exceeded 50 minutes soon after the start. By morning, the waiting time was still about 30 minutes. Some of those who tried to sign up complained that they encountered up to 521 errors on the website. Secretary for Innovation and Technology, Alfred Sit Wing-hang said in an interview on RTHK that the demand exceeded the capacity of the government's registration system, but the glitch was fixed within an hour. By noon, at least 60,000 people had signed up. To register, the system will first ask for an identity card number. The first inoculation is available from 26 February, followed by a second jab 28 days later. Registrants can choose between five Community Vaccination Centres and 18 general out-patient clinics under the Hospital Authority. But by noon, most of the slots had been taken. The earliest available slots are not till the end of next week. Five priority groups can make appointments online to get the vaccine. They include healthcare staff, persons aged 60 years or above, staff of residential care homes, essential public service workers, and personnel involved in cross border transportation. Reservations can be made at www.covidvaccine.gov.hk.Elderly people may bring up to two carers to receive the vaccine at the same time. Only the Sinovac vaccine will be available for the first round. Private clinics participating in the inoculation programme are expected to start providing the jabs by mid-March. On Feb 22 Monday, Hong Kong's leader Carrie Lam was the first person to receive China's Sinovac Covid-19 vaccine in a bid to improve public confidence in the mainland-developed vaccine. The Executive Council on Tuesday passed that starting from Wednesday, social gathering restrictions will be relaxed to allow up to four …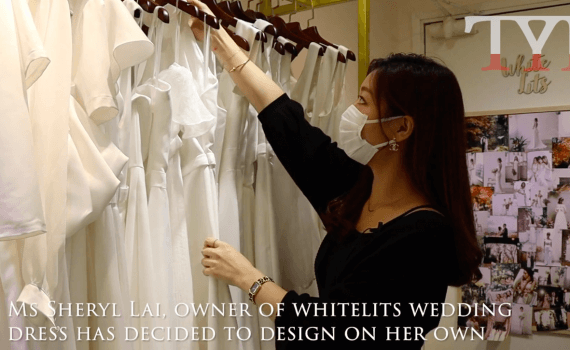 Hong Kong tailor designs light wedding dress on a growing craze
Apart from long trail and princess-like cake wedding gowns, a young local designer -tailor designs and produces simple but sophisticated dresses, known as the "light wedding dress." Despite the complex and difficult process in producing wedding dresses, Ms Lai dreams to bring the craze of light wedding dress to light and produce aesthetic wedding dresses for each bride.  According to the Hong Kong Trade Development Council, the size of the creative industry has increased by 5.3% steadily since 2018. In spite of the growing industry, Ms Lai has faced hurdles along and questioned the support for the creative industry by the government.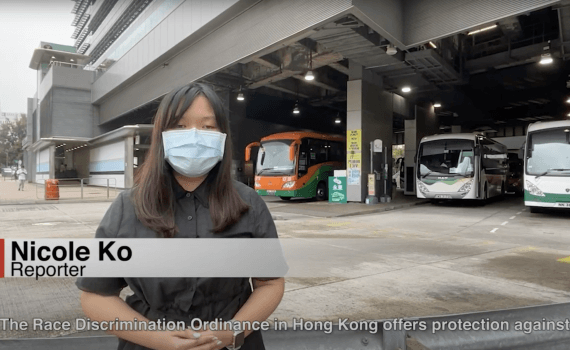 Mainlanders facing racism in workplace
Mainland migrants in Hong Kong face racism in the recruitment process. Since 1997, there have been 1.5 million mainland Chinese moving to Hong Kong. About 20 percent of Hong Kong's population are migrants from the Chinese mainland. But their cultural background, language, and sometimes education level makes integration into Hong Kong tough.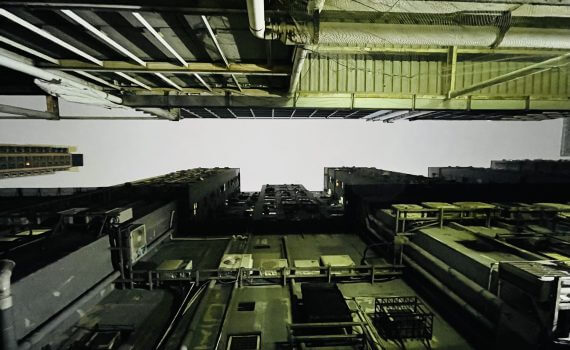 My day in Chungking Mansions: Disconnected "country" in Hong Kong
The elevator in this 17-storey behemoth of a building with more than 4,000 residents and hundreds of small businesses, can only hold five people. Waiting for an uncrowded one needs both patience and luck.  After 10 minutes, I give up and enter the stairwell to walk six numbers of flights downstairs. The walls are covered with graffiti. Through the window, I can see nothing but pipes with black stains.  Nearly half a century ago, Chungking Mansions was one of the most upscale buildings in Tsim Sha Tsui. But now, this complex has become a low-priced gathering place for minority groups and asylum seekers.  Before the pandemic, it used to see about 10,000 visitors every day. They come here for authentic food, affordable rooms, drugs, and prostitutes. For decades, some local people have viewed the complex filled with crimes and violence, as another "Kowloon Walled City," which was known for its high density and lawlessness. But fewer visitors amid the pandemic have made this building further disconnected from the outside world. I'm here to spend 24 hours, to get inside the look of this building and its people.  It's 5 pm on Sunday. Outside the stairwell on the ground floor, about 10 Africans are drinking beer and watching football on the television with loud music. I feel nervous in this unfamiliar place with so many corners and aisles, which are like scattered puzzle pieces. So I choose to stand still and look around to figure out the direction.  Luckily, someone is waving at me. I tell him that it is my first-time visit and ask for his advice. This 37-year-old Indian grocery shop owner, Muddassar Ahmed, is keen to give me an introduction. This five-block complex has more than 3 hundred stores. Most are run by African and Indian migrants and …