The Young Reporter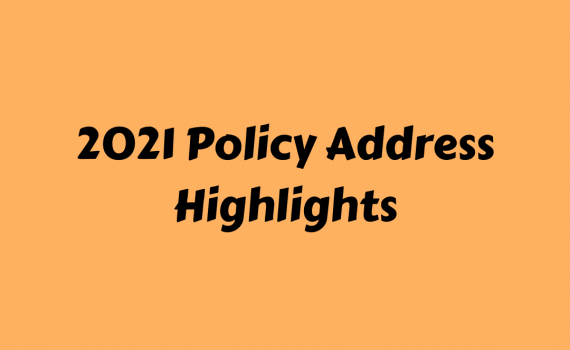 Policy Address 2021 Key Takeaways: developing a metropolis and upholding 'one country, two systems'
Chief Executive Carrie Lam Cheng Yuet-ngor's fifth and final policy address of her current term surpassed last year's to become the lengthiest address ever. Reading her 80-page policy blueprint over a record span of two hours and 38 minutes, Lam spoke about her government's commitment to the 'one country, two systems' principle and introduced the usual extensive list of economic and social measures.  Here are five key takeaways from her speech today: 1.Increasing housing supply Lam said the government identified 350 hectares of land to produce 330,000 public housing units over the next 10 years, a slight increase from last year's figures.  Lam also announced the Northern Metropolis Development Strategy, a project to transform 30,000 hectares of the northern part of Hong Kong into a metropolitan area. Lam said the completion of the project will contain more than 900,000 residential units — including the  existing 390,000 — to accommodate about 2.5 million people. However, local advocacy groups were disappointed by the policy address' lack of plans in addressing housing needs in subdivided flats. 2.  Bolstering Hong Kong's position as an international hub Noting the financial services industry as "an important pillar" of Hong Kong's economy, Lam aims to better position the city in bridging mainland China's market with the international market by improving the stock exchange's listing regime and expanding offshore business to using yuan currency.  Lam seeks to further foster the city's status in international trade by forming closer relations with the Association of Southeast Asian Nations and seeking to join the Regional Comprehensive Economic Partnership. Lam also pushed for Hong Kong to become a leader in legal and dispute resolution within the Asia-Pacific. The Department of Justice will organise the Greater Bay Area's legal professional exam and allow Hong Kong enterprises registered in Qianhai to adopt Hong Kong …
Election Committee poll sees 'patriots' fill hundreds of seats on body to appoint Hong Kong's leader next year in first poll after system revamp; delay in results had candidates waiting overnight
The polls for Hong Kong's Election Committee closed last night ending the city's first election since Beijing revamped the electoral system in March. According to official statistics, 4,380 people cast their ballots, a turnout of about 90%, a record-high rate despite a drastic reduction in the number of eligible voters this year. All but one of the Election Committee seats went to the pro-establishment camp, with 412 candidates competing for 364 elected seats. The remaining seats on the 1,500-member committee were appointed, filled by ex-officio members or automatically elected. The committee will select Hong Kong's next Chief Executive next year as well as appoint 40 members to the Legislative Council. "The turnout reflects the support of members of various sub sectors for the new electoral system," Chief Executive Carrie Lam Cheng Yuet-ngor said in a press release. Voting results were delayed until 7:30 am today at the Hong Kong Convention and Exhibition Centre, with Electoral Affairs Commission chairman Barnabas Fung Wah apologising for problems with the ballot verification papers, likely because officials filled in the wrong boxes, he said at a press conference. The central government reforms included reviewing candidate backgrounds, increasing the number of ex-officio members and raising the requirements for the qualifications of voters. The number of eligible voters dropped from 246,440 to about 4,900. "The automatic election of members from many sectors and the stop of non-patriots have led to a reduction in voters, which actually makes the election more fair," Legislative Council member Lau Kwok-fan said. Daniel Cai, a Hong Kong resident, said he did not pay attention to the election since Beijing changed the electoral system. "I belong to no valid sector, so I don't have the right to vote for the representatives," he said. "Before the reform of the election, I could vote for …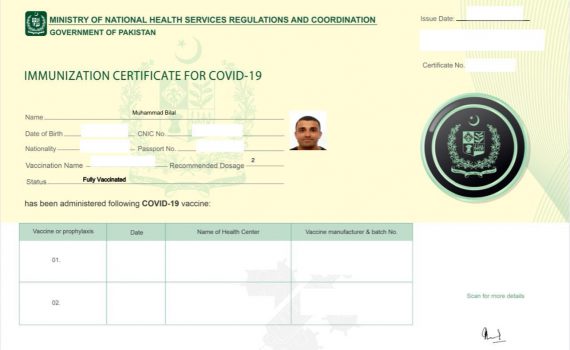 Pakistanis with Hong Kong Residency Rights Say Return to City Being Thwarted Due to Vaccination Rules
Hundreds of Pakistani nationals, attempting to return to Hong Kong, claim they are being turned back even if they have been vaccinated against the coronavirus and have rights to live and work in the city. According to Apna Hong Kong Network, a Facebook social group that provides information about Hong Kong in English and Urdu for South Asians living in the city, more than 2,000 Pakistani nationals with Hong Kong residency rights approached them for help because they are having difficulty returning to Hong Kong. "Hundreds of Pakistanis booked flights on 9 and 10 of August, and were sent back from Dubai," Sadaf A. Muhammadi, the founder of Apna Hong Kong Network, told The Young Reporter. "They were informed at Dubai airport that vaccinations from Pakistan are not accepted by the Hong Kong government." "Families have been separated for months... some people have lost jobs because they have been away for too long," she added. The Hong Kong government suspended flights from Pakistan, India and the Philippines - all considered high-risk countries due to high coronavirus infection rates - beginning April 20 in its effort to prevent the further spread in Hong Kong.  In recent changes to Hong Kong's regulations allowing international flights, the Hong Kong government will allow overseas travelers to enter Hong Kong beginning Aug. 9, depending on which region they came from. Overseas regions have been re-categorised into Group A specified places (high-risk), Group B specified places (medium-risk) and Group C specified places (low-risk). According to the latest regulations, Hong Kong residents from Pakistan can return to Hong Kong only if they are fully vaccinated, and able to present negative results for COVID-19 test conducted within 72 hours, and confirmation of room reservation in designated quarantine hotels.  "Only …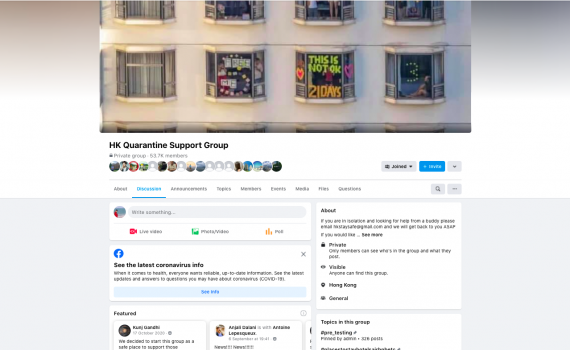 Clogged sinks, awful food and poor service: Travellers shocked at Hong Kong's quarantine hotels
When Lau Kai Ching decided to come to Hong Kong from Malaysia, she found she had limited options in choosing a quarantine hotel. "I found that there were few designated hotels and most of them were full, especially those which were highly recommended by users on social media," she said. "So I had to choose one called Ramada Harbour View." Once she arrived in September, things were not what she expected. "The most bothersome thing is that, in the toilet, the pipe doesn't work very well and the water gets clogged very quickly. I asked some people to fix it but the staff from the hotel said that they had no permission to enter the room of the traveller who was in quarantine," she said.  Lau said she wanted to change rooms but it required permission from the Department of Health. "Then I made a phone call to the department and the operator told me he had received the report and would arrange it as soon as possible," she said. She said she received no reply after that. "Fortunately, after three days, the blockage of the water pipe eased a little. It could barely work but the water flow was so slow that it took a long time to wash," she said. In Hong Kong, all inbound arrivals from outside of mainland China and Macau are required to quarantine in government-designated hotels that must be booked before boarding the plane.  In September, 92,398 people arrived in Hong Kong, ccording to the website of the immigration department. Those from "high-risk" countries, such as the US, the UK and much of Europe, are required to undergo a 21-day quarantine and should be vaccinated.  They are also required to undergo six compulsory tests during the period followed by a week of self-monitoring. Currently, …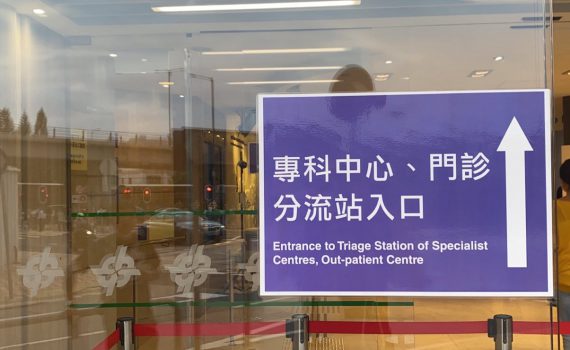 Policy Address 2021: No cork to medical brain drain; Carrie Lam's last policy address doesn't meet hopes of healthcare personnel
Hong Kong's Chief Executive Carrie Lam Cheng Yuet-ngor 's latest policy address barely covered medical brain drain, as more doctors and nurses leave public hospitals because of poor workplace conditions and low salaries or emigrate. "I don't have much expectation on the policy address," said Chung Pak-chi, 20, a third-year medical student from the Chinese University of Hong Kong, adding most of her peers did not want to practice locally due to intense workload and low salary. Since July 2020, the turnover rate for full-time doctors in public hospitals has reached 4.9%, said Hospital Authority Chairman Henry Fan Hung-ling in August, and 6.7% for nurses, a 0.9% increase from 2019. Emigration contributed to staff loss, Fan said, and the situation is "concerning." Private hospitals also poach talents from the public sector, worsening the situation there, he added. Gloria Law, 25, a nurse with three-years experience in a public hospital, said the workload she endured was "intense and heavy," adding that each nurse had to take care of 12 patients at one time. A pay freeze announced by the Civil Service Bureau in June further widened the salary gap between nurses in the private and public sectors, Law said. Her salary after three years in a public hospital is less than what a nurse in the private sector makes in the first year. "The salary is not appealing enough as well," she said. Despite these challenges, Lam highlighted government healthcare policies in her address, describing them as "multi‑pronged," but stopped short of laying out new concrete measures. In September, the Hospital Authority extended retirement from 60 to 65 and created promotions for nurses to pursue specialisation. In August, the government proposed amendments to the Medical Registration Bill to allow non-locally trained doctors - regardless of their Hong Kong permanent residence status …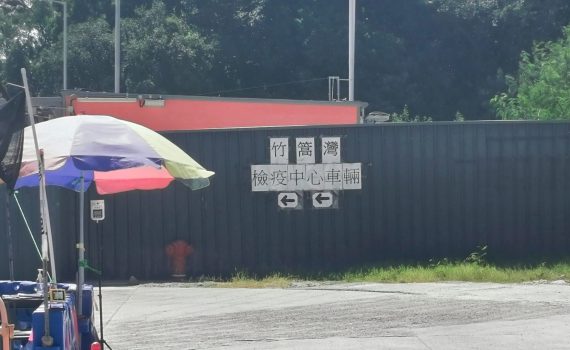 Quarantine rooms for domestic helpers snapped up in minutes
The booking system for foreign domestic helpers at Penny's Bay Quarantine Centre on Lantau Island reopens today, following a halt since Sept. 19. The 1,000 rooms on offer were fully booked up in minutes.  Reservations for Oct. 22 to 28 provide 350 quotas for foreign domestic helpers to undergo quarantine. Phailin Leesirichaikul, a Thai missionary living in Hong Kong said that by the time she had gone through a series of steps to get to the booking page, all the quotas had already been taken. "Within three to five minutes after the system opened up, all of the rooms were fully booked, which made me anxious because the visa of my Indonesian helper is about to expire, but I cannot book a quarantine room for her," she said. In order to arrange foreign domestic helpers to come to Hong Kong in a gradual and orderly manner and to guard against imported Covid-19 cases, Penny's Bay Quarantine Centre will continue to receive at most 50 helpers each day, according to a government press release.  The centre will provide an additional 200 units from Oct. 22, that's a total of 1,000 units for inbound foreign domestic workers. Employers and employment agencies can make bookings from 9 a.m every Monday for the following week. According to government figures, as of Oct. 1, among the 6,060 Filipino foreign domestic helpers who arrived in Hong Kong between Aug. 30 and Sept. 24, there were 26 confirmed Covid cases. That's a rate of 4.3%.  Law Chi-kwong, Secretary for Labour and Welfare, said in his blog post yesterday that such a rate should be taken seriously.  "On a daily basis, we will check the epidemic situation of foreign domestic helpers in their countries of origin, the diagnosis of workers upon arrival, and the operation and booking of …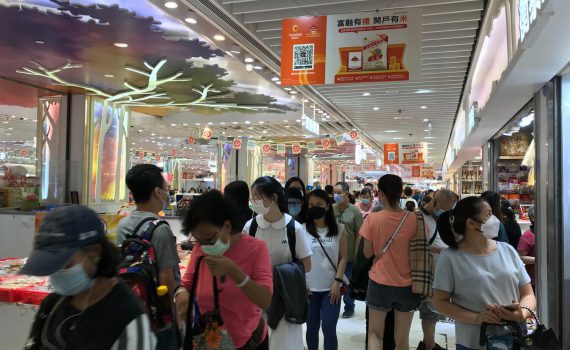 Panic-buying Emerges Before Typhoon Kompasu Hits the City
Hong Kong people scrambled for food after the Strong Wind Signal No.3 was in force, in order to have enough food before No.8 Gale or Storm Signal was issued today.  Fresh meat and seafood in the Wellcome Superstore in Sha Kok Shopping Centre were sold out at noon, as Hong Kong people were panic-buying to get prepared for the approaching typhoon Kompasu. Chan Fung, a customer at Sha Kok Market, said she returned home empty-handed yesterday because of the stockout. She visited the wet market again this afternoon and bought more than usual, including two bags of vegetables, five oranges and a fish, which cost around HK$200. Prices were up for approximately 10%, Chan added. Still, she was not able to purchase any meat, as they were all sold out earlier. "I didn't buy much, the food is just enough for tomorrow, because I guess the typhoon will only stay for one day," Chan said.  The second typhoon in the city this month is approaching after Lionrock's visit on Saturday. Typhoon Kompasu will be nearest to Hong Kong in Wednesday's early morning, so the No.8 Gale or Storm Signal issued at 5:20pm will be in force at least before sunrise on Wednesday, according to the central briefing by the Hong Kong Observatory. "Strong to gale force north to north easterly winds, occasionally storm force offshore and on high ground," said Yeung Kwok Chung, Acting Senior Scientific Officer of Hong Kong Observatory, in the central briefing at 9 pm. "Winds will moderate gradually tomorrow night, it will also be cloudy with heavy squally showers and thunderstorms." Queues in the Wellcome Superstore in Sha Kok Shopping Centre were extended to the back of the store.  Tang Man-wai, a customer at the Wellcome Superstore, had only a box of sushi and four cup noodles …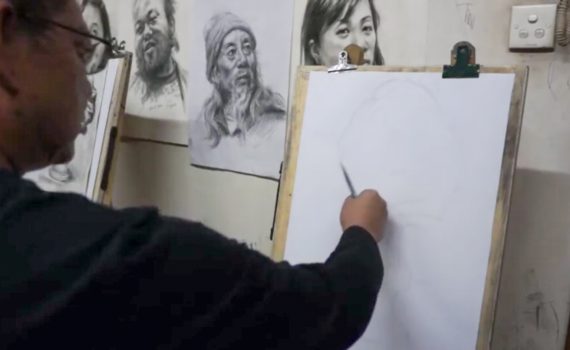 Learning Through Lived Experience
Art opens our minds and shows us what could be possible in our world. Tan Zhiwen talks to a fine art teacher in mainland China who explains that learning is a lived experience.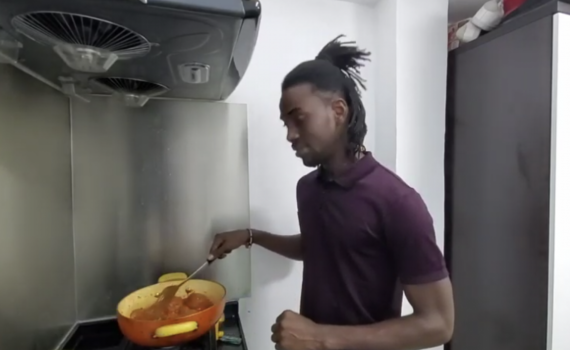 Best African Cook In Town
Hong Kong has a small African population, but Malick Gai talks to the "best African chef in town" as he cooks up a storm!