By: Kylie Wong

Edited by: CHUNG Yee Men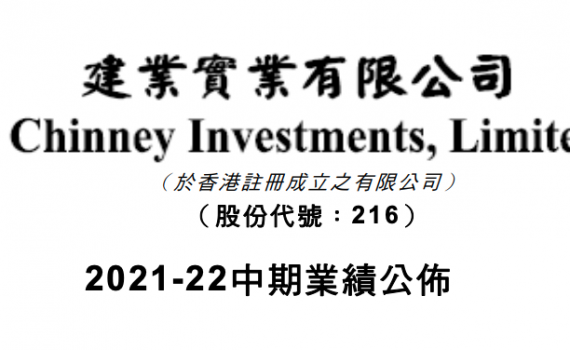 TOP STORIES
Chinney Investments' first-half net profit inches up while revenue hits
By: Kylie Wong

Edited by: CHUNG Yee Men

2021-11-26
Chinney Investments (00216.HK) saw an increase in net profit in the first half of the year while revenue fell. Net profit increased 6.79% to HKD 350 million from HKD 328 million the previous year, owing to an increase in property rental income contribution after the data center building was put into use. Meanwhile, revenue fell 18% to HKD 609 million as property sales from the Group's development project in mainland China tumbled. Earnings per share increased from HKD 0.10 to HKD 0.11 per share. Profit attributable to shareholders increased 9.31% to HKD 58 million, up from HKD 53 million the previous year. Investment property reached HKD 15.31 billion, inching up 0.71%. HKD 15.21 billion was recorded previously. No interim interest will be given out. Despite facing challenges brought by the pandemic and inflation, the property company predicts increased local opportunities as a result of high housing demands.   "We should sit back and observe obstructions caused by political tension between China and the US, " Wong Sai-wing, chairman of Chinney Investments said in the report. The company closed at HKD 1.55 on Tuesday.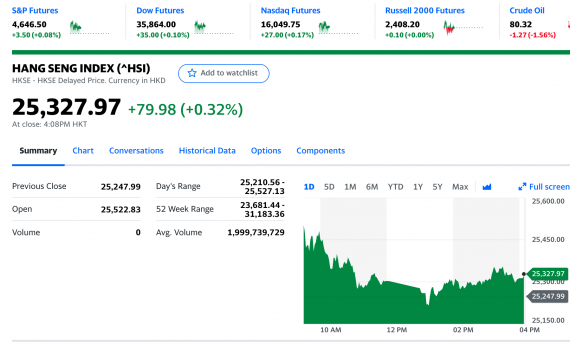 Hong Kong stocks close higher, blue chips performance varies
By: Kylie Wong

Edited by: Vikki Cai Chuchu

2021-11-12
Hong Kong stocks rose for the fourth day in a row on Friday, with the blue chip index ending the week above the 25,000 mark boosted by technology stocks, while other blue chips recorded diverse performance. The Heng Seng Index opened up 1.09 percent but gains were pared at noon. The benchmark index was up 0.32% to end the day at 25,327, the highest close of the week in a four days winning streak.  Technology stocks led the market rally as Tencent surged 1.59% to HK$458.2. Meituan followed by jumping 2.6% to HK$289.8. JD.com rose 5.17% to HK$329.4 as it's sales during the Double Eleven Event achieved a record high of 349 million yuan. Alibaba dropped 0.49% to HK$162.4 as gross merchandise volume from its online shopping platform, Tmall, dropped. Mobile device stocks recorded diverse performances. Sunny Optical was the best performing blue chip stock, rocketing 4.72% to HK$226.0. Meanwhile, Semiconductor Manufacturing International Corporation (SMIC) dropped 3.8% to HK$22.6. SMIC's deputy chairman of the board and executive director Chiang Sheung-yee announced his resignation on Thursday. Haidilao decreased 9.01% to HK$20.2, making it the biggest loser among all blue chips. The economy in mainland China remains weak due to inflation. This might affect enterprises' profitability, Yiu Ho-yin, managing director of Cash Wealth Management told Oriental Daily News. HSCE and the SSE Composite Index grew 0.73% and 0.18% respectively, while the CSI 300 Index fell 0.21%.